Scattered Pictures
I did a Google search for images of (long pig) Michael Moore this evening (photoshop project, another site), and look what I came across in the process: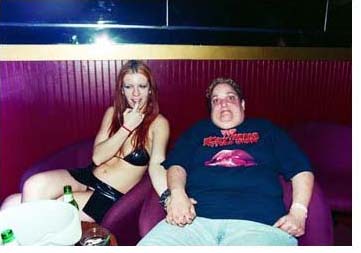 (You find amazing things on Google images. No, I don't know who these folks are).
Ahh. Misty, water-color memories...of the ti-tty bar...
Actually, the woman on the left looks a lot like a "Misty" I once knew, back in my days as a cocktail waitress at the Parachute Lounge. Misty was a stripper, a tall skinny hill-woman with a beautiful face (when her mouth was shut - terrible teeth), lank, dark hair, and a baby-chewed body. Misty was not one of the more attractive strippers I have known, no, but she was prized above gold among a certain segment of the clientele, the segment whose fantasies involved a "real" woman actually speaking to them.
I went out with Misty and her boyfriend "Hawg" after work at the titty bar one Saturday night. Misty and I smoked a fatty in my car on the way to their trailer for some cocktails; we arrived to find Hawg and his friend Tick cutting out lines of crystal meth and watching a porno. It was creepily uncomfortable in that single wide - Hawg and Tick were obviously dangerously fucked up and horny, and I had the feeling that my relative virtue was in serious peril. I declined the offer of free crystal meth and resolved to leave after one drink. I assume it was Hawg who slipped the roofie in my Jack and Coke, in hopes of a four-way.
Alas, poor Hawg underestimated my battle-hardened CNS; I was still able to limp back to my college town in the Honda, sixty miles away, only to collapse unconscious when I reached the relative safety of my boyfriend's front porch. My boyfriend had to carry me inside like a sack of taters.
Like the corners of my mind, baby.
Posted by Queenie at December 28, 2004 11:46 PM